Bela Breakdown
While most families are able to display accomplishments (or participation, depending what type of people you are) on a single mantle shelf–that is without a doubt collecting years' worth of dust, so much so you can't even read the "3rd runner up" on your 2009 swim meet medal but I digress—that only gets noticed during the holidays when grandma likes to remind you of that one embarrassing story that one time at that one meet or tournament. The intention of the shelf may be pride, but for many, it's a mediocre display of past commitments that ultimately resulted in minor injuries and crushed self-esteem. But hey, at least you tried, right?
Here to make you feel even less significant is this mindblowing, and simultaneously adorable, video of John Legend and Chrissy Teigen's trophy shelves. Yes, I had to says shelves. I suppose having an EGOT winner—one of only a small handful in the world may I add—lends itself to some pretty impressive hardware. But after this weekend they'll be adding some new rows to the impressive display to make way for Teigen's Baby2Baby award.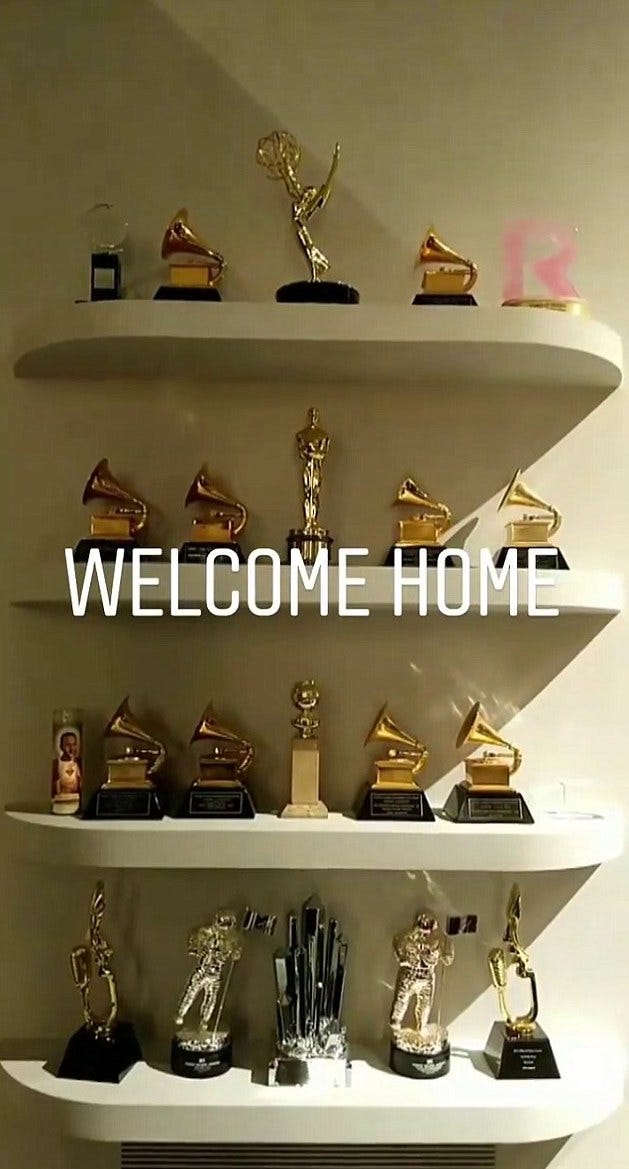 The award is in recognition of her years of effort dedicated to the nonprofit that aids impoverished children. She was honored with the Giving Tree Award and was the first non-entertainment related award she has received, which made for some hilarious Teigen jokes during the acceptance speech.
But even better than that was the video shot by Legend after. Waltzing through their home in a stunning Georges Hobika pistachio gown, Teigen removes two of Legend's Grammys to put her Baby2Baby front and center. His commentary? A short "wow" as she removes the second Grammy, followed by the sweetest little "yay" from Teigen once she was satisfied with her work.